Keep on keepin' on and someday that inbox will go down!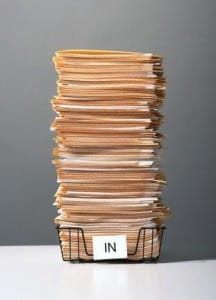 Pressing Matters: Week of September 9-13, 2013

Acquisitions
It's slush-readin' time! SO MUCH SLUSH. We promise we're getting through it, really!
And yes, we're reading all those sequels and follow-up novels and everything else in the queue. We swear!
Editing
Finishing up on Grave revisions and waiting for rewrites to come back on Sword and Mixed Feelings. Yep, moving along…
Production
Proofreading continues on City of Devils, and we're adding in the illustrations and vintage ads.
Infinity Key is in proofing now!
Layout on Grave has begun!
Reviews, Promotions, and Buzz
Sundries